Home Redefined: Property Staging and Organizing from a passion for creativity.

---
About Home Redefined
Home Redefined is locally owned and operated by Teresa Souliere in Grande Prairie, Alberta. Teresa is a Certified Staging Professional® and Certified Colour Consultant graduating with honours and a proud member of Professional Organizers of Canada.  Currently, she is working towards her Master Certification for Staging Professionals and recently completed her training as a Professional Organizer.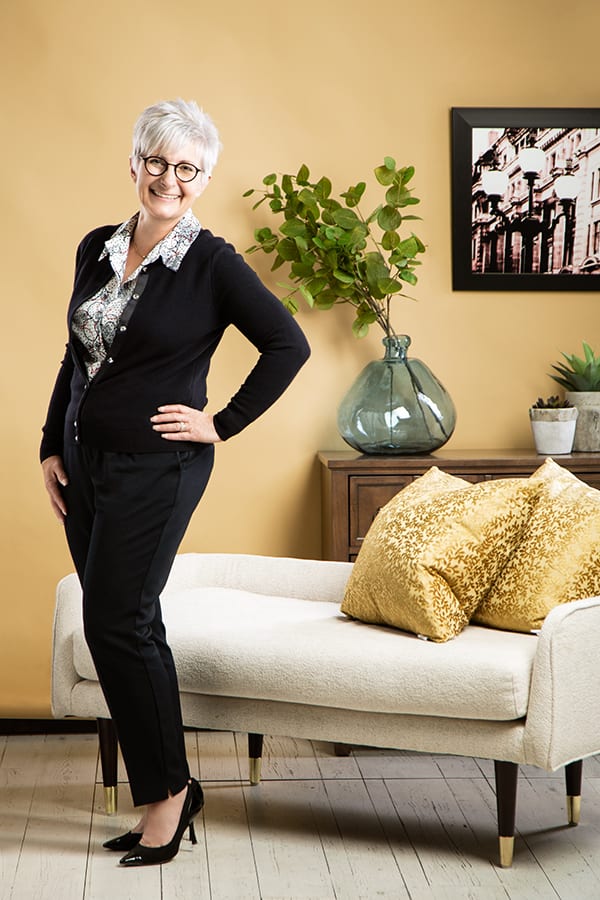 Teresa Souliere, CCSP®
Teresa also has a Green Belt with honours designation in Lean Initiatives from the Leading-Edge Group. Lean is the practice of creating efficiencies and value for internal and external customers.  Lean looks holistically at the process of service delivery to the customer and seeks to modify and remove redundant processes that do not bring a benefit to the customer.

Teresa has a vibrant passion for interior creativity and an immense sense for organization. Her strong work ethic, professionalism and a keen ability to listen and understand client needs will help to ensure clients expectations are met consistently. She is dedicated to working with clients to achieve desired results.

For years, Teresa has been sharing ideas, helping friends and family members with interior inspirations for colour and furniture selections, placement and home renovations projects. She has successfully bought, renovated and sold various properties in Alberta. Teresa is delighted to have the opportunity to share her passion for all things related to home interiors from helping clients redefine their existing home space, future place or preparing their home for the real estate market.
Teresa and her partner are parents to five amazing adult children and truly blessed to have five extraordinary grandchildren. Teresa has a zeal for travel and looks forward to the next excursion.  Pictures from her travels are often the theme of her oil paintings.  She enjoys time with cherished friends and family sharing numerous activities from; cooking, hiking, skiing (winter/summer), biking, golf, camping, fitness classes and the odd pickle ball game here and there.
Teresa looks forward to the privilege of being of service to real estate professionals and home owners in the Grande Prairie and surrounding area.
Learn More About Our Services
---
Our Core Values, Mission, Vision and Goal
---
Core Values
Trust – we care about our clients, vendors and business partners, we act with integrity in all that we do and say
Respect – of our client's property and possessions
Creativity – staging designs that are inspirational, resourceful and unique
Service – appropriately delivered to meet our client's needs – maintain high standards
Mission
Our Mission at Home Redefined is to help Homeowners, Real Estate Agents, Home Builders and Investors; by providing quality home staging services that will garner the best possible return on their investment in the shortest time-frame. Our home staging service is delivered in a professional, timely order as per the terms of the agreement. As a Certified Staging Professional®, I adhere to a strict of Code of Conduct, which ensures that all work is performed in a responsible and respectful manner. Our clients and their property are regarded with the utmost of integrity, courtesy and confidentiality.
Vision
To be the most respected home stager delivering exceptional staging service that will secure the most profitable and fastest property sale.
To help Real Estate Agents grow their business using our home staging service as a marketing tool to effectively sell property and reduce the listing days on market.
To help Sellers maximize their profit from the sale of their house by enhancing the appeal to potential buyers and reduce the days on market
GOAL
To present each property in the most favourable showcase (market) ready condition to sell at the best price
and in the shortest timeframe.