Written by:  Teresa Souliere
It may be winter, but curb appeal still matters when selling your house.  Don't let winter stop you from dressing up your home and maximizing its potential curb appeal.  Ignoring the exterior curb appeal is like serving birthday cake without icing.  Potential buyers will form an impression within seconds of surveying your exterior facade.  The over all appearance of the yard and house set the tone of the buyer's perspective of your home at first site. A property that appears outdated and in disrepair generates a negative impression. "Great curb appeal sells more than half of ALL houses that go on the market", according to the National Association of Realtors.

Here are a few tips that will help create a curb appealing exterior in the winter that attracts and welcomes potential buyers and makes them eager to come into your home to see more:

Maintenance
Shovel snow from driveways, sidewalks, decks and patios.  Remove icicles hanging from the eaves.  Throw down salt and sand on walkways to ensure no one slips on your property.  Address any standing water/ice around the property. Safe, clear pathways to the house are critical.

Clean up the yard of any debris or animal waste, including deer and moose droppings.

In the big picture cleanliness and well-maintained are important aspects to the overall appearance of the property.  Look at your house through the eyes of a buyer - is it in good shape or is it time to repair and replace key elements of the exterior.

Exterior Façade
Step back and look at the shingles, siding, trim, stone, brick – do any of the exterior finishes need attention, replacement or repair.  Clean the eaves/gutters – remove debris, water and snow – clogged eaves attract pests and prevents proper drainage of water. Replace any missing pieces of the downspouts and eaves/gutters.

Garage Door
Ensure your garage door in good working order.  What about the appearance of that door – is there dents or surface damage and wear? Its one of the first things buyers see when they drive up to the house.    The garage door can be a distraction if not in good condition or doesn't coordinate with the style of the house. Replacing the garage door can change the overall look of any home.

Front Door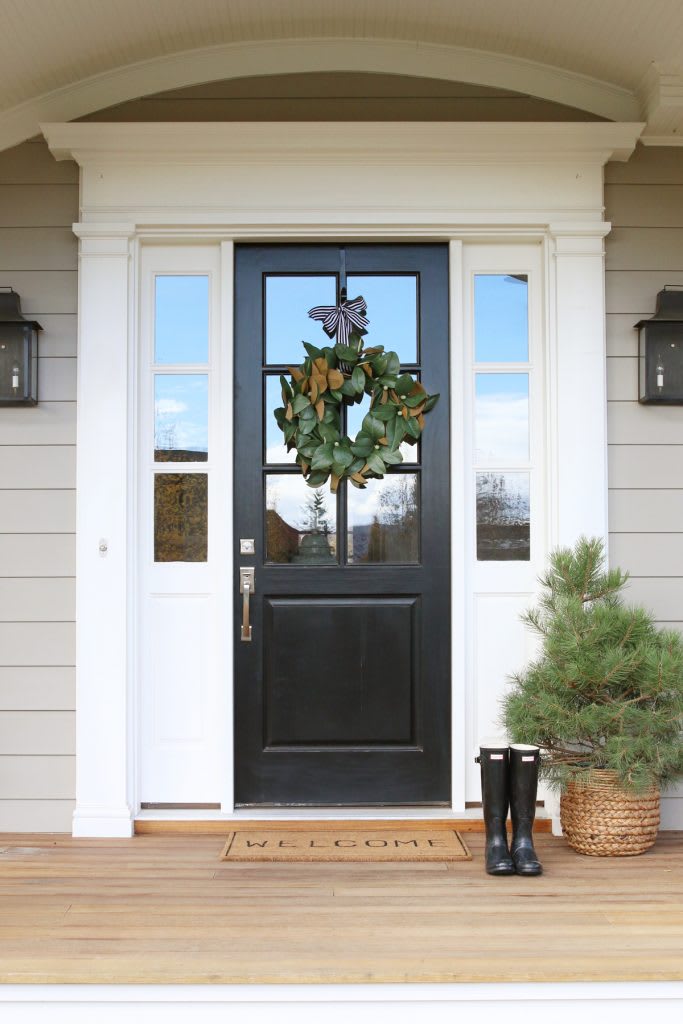 Image by: ablissfulnest.com
Spruce up your front door…Inspect the condition of the door, does it need a lift, replacement or a good scrub. If the door is in disrepair, replace it. Perhaps it just needs some paint, a pop of colour goes a long way on the front door, paint is inexpensive and makes a dramatic statement.  If painting the front door isn't an option, due to our freezing temperatures, a good cleaning can go a long way, that includes the windows. New hardware could also make a big difference to update an existing door, key-less entry is also an added feature.  Nothing is more discouraging to a potential buyer than seeing a filthy or dilapidated front door, it sends a clear message of poor maintenance and may give them a reason to turn around and go see another property.

Assess the state of the doorbell, steps and railings – repair or replace if necessary.
Create a Statement
Consider making a statement on the front porch or at the front door with planters filled with evergreen branches, artificial shrubs, or small spruce trees to introduce some colour and interest. A seasonal wreath and welcome mat at the front door add a decorative touch. Keep in mind the season for styling the front entrance, seasonal decorating has an expiry date, if the season has past, take it down and pack it away for next year. Creating an enchanting first impression is important; you only get one chance with buyers to create a lasting impression.  Make your entrance inviting and welcoming.
Exterior Lighting
Bright lighting is vital for the property, an illuminated house offers a cozy ambience for viewers and highlights its appeal in the evening.  Use the highest voltage possible for the lighting.  Remember to give your outdoor lights a thorough cleaning and shine. Installing a porch chandelier or outdoor lanterns at the front door creates a charming and welcoming threshold.  Spotlighting a dramatic tree or garden area can be a very effected way to draw attention to an outdoor feature.

House Numbers
Invest in highly visible house numbers that compliment the rest of the house.

Mailbox
Upgrade that shabby, rusted mailbox at the front entrance.  A relatively easy task and well worth it.

Windows
Clean all windows thoroughly inside and outside. Window casings are included in the process. Sparkling windows is the goal!  Ensure windows are sealed and caulked properly.

Landscaping
Trim shrubs, bushes, tree branches that are blocking windows or doors or hindering the visibility of the house or limiting the light coming into the house.  Natural light is critical in a house, there can never be too much natural light, in this case more is better.

Hanging bird feeders add colour and some life to the yard by attracting the adorable little birds that hunker down during the winter months in our northern region.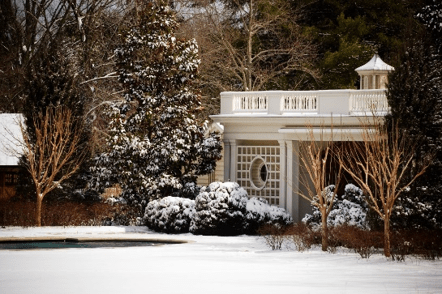 Clear Clutter and Stuff
Tuck away garbage totes, toys, shovels, lawn equipment – items laying around give the yard an untidy appearance.  Relocate the recreational toys on the driveway during the 'for sale' process; these include snowmobiles, trailers and quads.  Buyers are coming to see your house, to see if it fits their needs, not all your stuff.  The idea is to create space and minimize clutter of 'your stuff' both inside and out.
Backyard
Don't forget the backyard!  Make sure its clean and clutter free.  If you have a patio, outdoor kitchen, fire pit or gathering area, uncover it.  Show-off your outdoor attractions – lifestyle living in the backyard is an appealing selling feature that adds equity to the value of your property.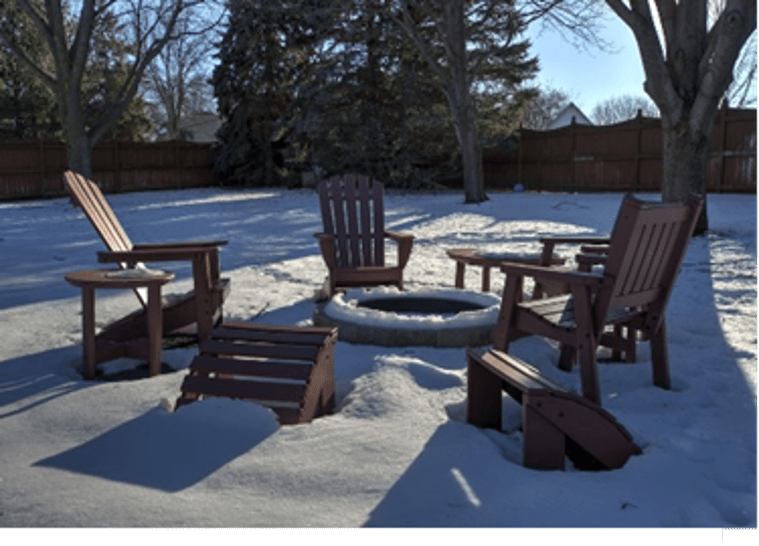 Investing in your exterior curb appeal will increase the opportunity to attract potential buyers who want to see the inside of your house.  Statistics tell us that seventy-four percent of prospective buyers will drive by your property before they consider viewing it, and half will cruise by in the evening.  You only get one chance to make a great impression, there are no second chances to impress a buyer.  House preparation inside and outside is essential prior to listing a property.  Curb appeal matters even when selling during the winter months. 

Connect with us today to find out more about how we help our clients maximize their equity and put more money in their pockets from the sale of their property.

Contact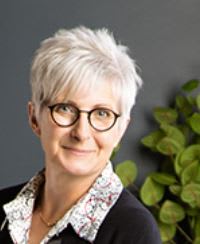 Teresa Souliere
Certified Staging Professional, Colour Consultant & Professional Organizer