Go ahead give your closet a face lift with a fresh coat of white paint.  Painting your closet interior white has positive results whether selling or dwelling in your home.
Give Your Closet Some Attention
I was never intrigued by painting closets white, until I decided my walk-in closet needed an overhaul and pick me up. The goal was to freshen up the closet and make it more appealing, with a bit of pizzazz.  Surprisingly, there was not an abundance of information online about painting closets white or a neutral colour, however there was enough to convince me it was the way to go. Now it was time to get started with the refresh.  First things first, the pre-work, which is often a lot more effort than the actual painting, however, it's a necessary step to a delightful finished product.  I generally tape the trim and cover the flooring, however, taping wasn't necessary for this application, as the walls were being painted the same white colour as the trim. So, I embarked on the task to empty my walk-in closet, which lead to a full-blown purge to downsize the volume of clothes that streamed from my closet. Downsizing, purging and organizing are topics of their own for another day and another blog. For now, we'll keep the message on task with painting the closet white.

Revitalize the Closet
As the paint hit the walls and shelving space, I could instantly see what the allure was to have a white painted closet.  The transformation was amazing, giving the closet a bright, clean and larger appearance.  By painting the closet white, it eliminates the need to repaint the closet if I decide to make future changes to the master bedroom color. As we all know, painting the closet comes with a few challenging tasks, like what do to with everything that comes out of the closet and working in a small space with limited lighting.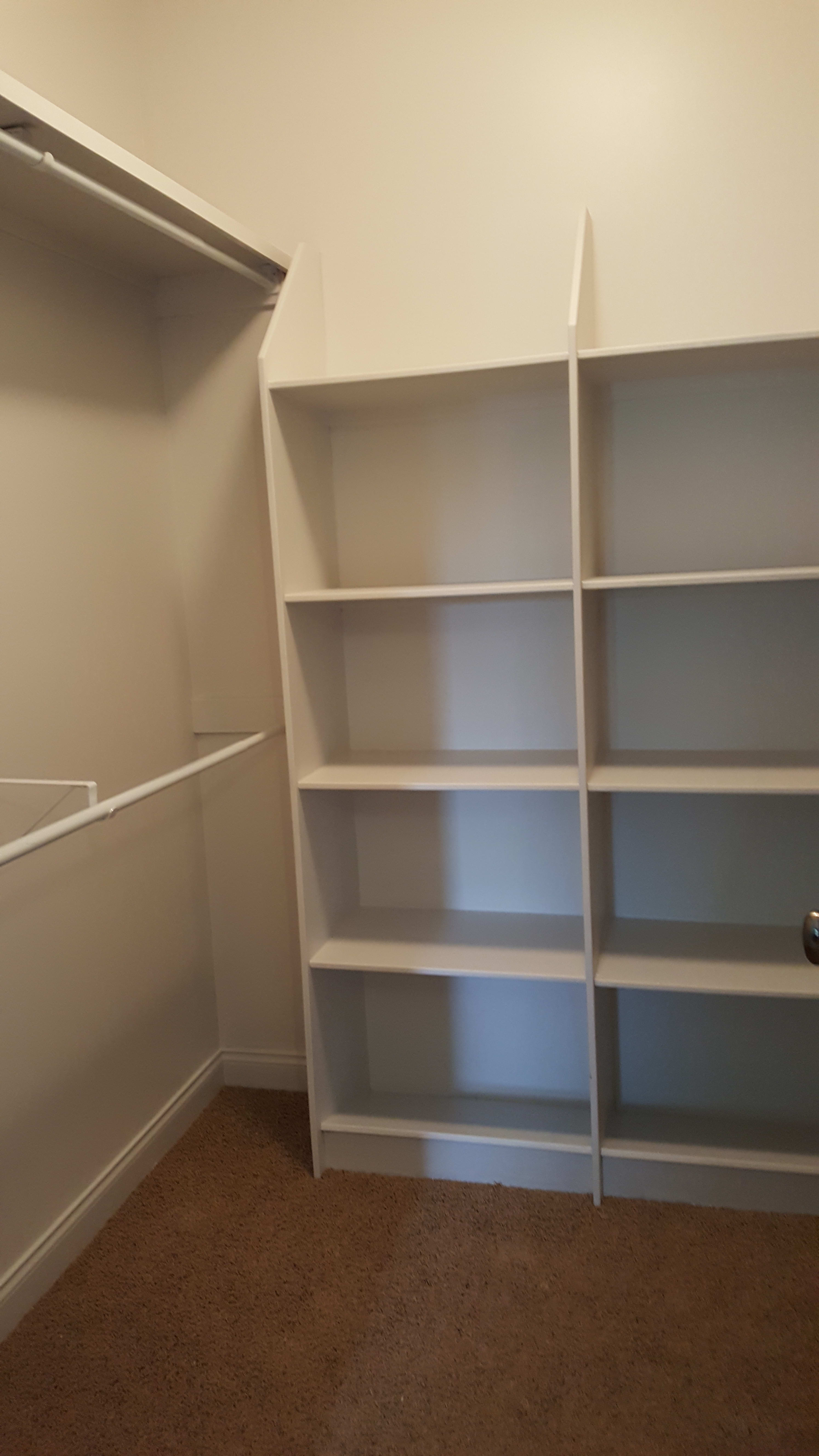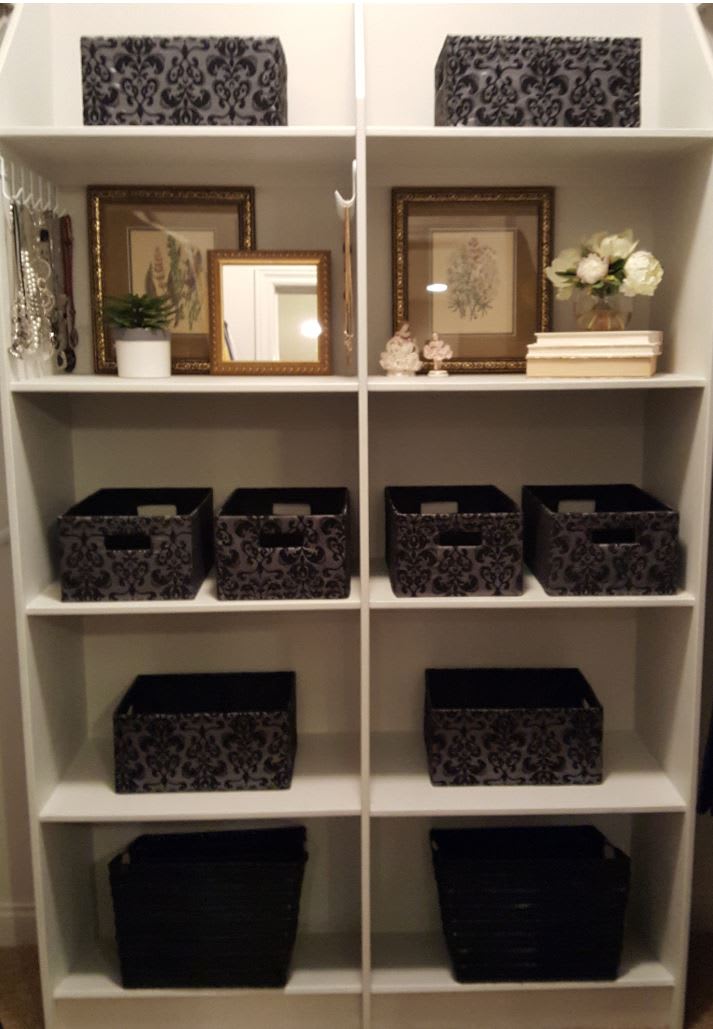 Benefits of A White or Neutral Colour Closet
There are numerous reasons and benefits to paint closets white or a neutral colour.   Never underestimate the power of white paint, it portrays a clean fresh look in any room, improves the lighting and enhances a small space such a closet.  White paint in the closet is visually appealing and provides a colour contrast between the walls, shelving and its contents.  The colour contrast between contents and the closet interior space makes it much easier to organize and find what you are searching for.  A dark paint colour in a closet does not reflect the light very well and makes it difficult to identify colours and tones of your clothing, for example items in dark blues, browns and blacks are often indistinguishable.

Closets Do Matter
Appropriate closet and storage space are key wants on the homeowners' top priority list in a new home.  A lack of space or appealing closets can often be a deal breaker for a buyer and a challenge for a homeowner.  Painting closet walls and shelves white or a neutral colour can go a long way toward giving your home a fresh and finished look. This refreshing look can help inspire a mode of organization. If space permits, adding a bit, of décor elements (bright and appealing lighting, pictures, mirrors, accessories) in the closet creates an appealing space.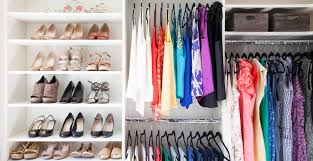 Paint Tips
To minimize marking and scuffing with white paint be sure to use a good quality washable paint.  An eggshell and satin paint on closet walls and shelves is less likely to show scuffs and streaks than a semigloss, however, on pantry shelves a glossier sheen makes for easier cleanup of spills and stains.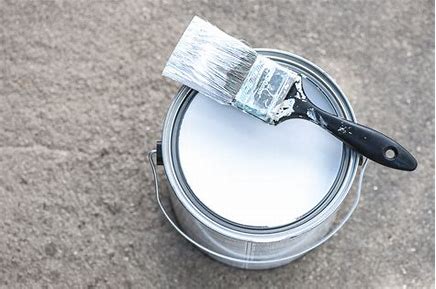 Some exceptions to the white or neutral colour rule of thumb:
Open Closet – without a door, the closet becomes part of the room, looks best when the colour matches the overall room.

Closet Nook – to avoid being drab – create an inviting space with colour that calls for your attention

Wallpaper – use main color of wallpaper – highlight with colorful accent wall that compliments the room's décor

Flat Paint – used for most closets – flat finish – white or neutral color will reflect ample amount of light
Satin Paint – highly durable – resists scuffs and scratches
Semi-Gloss Paint – provides a shinier sheen which will reflect more light – brightens up a dimly lit closet
High Gloss – most reflective and durable finish – used in closet that requires maximum brightness

Special Considerations
Dark colours in a flat paint won't reflect light inside a closet, using a semi gloss will be more reflective

White/Neutral colour in a kitchen pantry/closet needs to be durable, semi-gloss paint provides for easy cleanups and durability
Mudroom Closet is going to endure high traffic usage, a semi-gloss or high-gloss will stand up to this kind of wear and tear
Sign up for our monthly newsletter on home improvement tips.


Happy painting!